Pumpkin & Cashew Curry Recipe
Treat yourself to a cosy meal with this easy & vegan pumpkin & cashew curry recipe.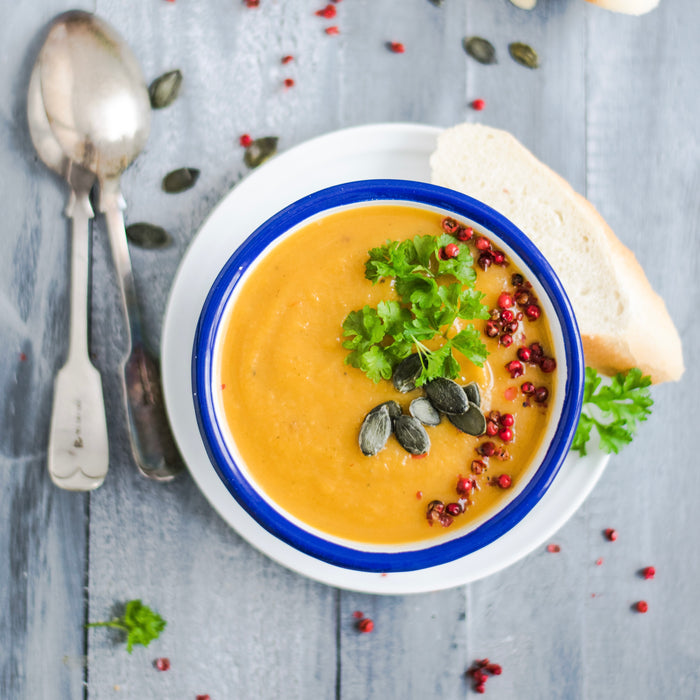 When the sun starts going down earlier and the temperature drops in the evenings, we all want to snuggle under a quilt and spend the rest of the day reading a good book or watching the hit series of the moment. And in these moments, it can be torture to extract oneself from the comfort of the couch to start prepping a meal… This is why this curry recipe is perfect for such cosy evenings.
Not only is this recipe a vegan delight, but it is also surprisingly easy - and yummy. Prep is kept to a minimum before you can add the ingredients to the pot and let it simmer while you read more chapters of your favourite book. Time will pass without you noticing and your hearty, spicy and autumny curry will already be ready.
Doesn't sound dreamy enough yet? There's one more element to this recipe: the Golden Mellow mix, a blend of powerful superfoods that will help you de-stress naturally. This mix is not only deliciously spicy thanks to the turmeric, ginger and cinnamon, it also contains adaptogens and ayurvedic herbs to help your body relax and wind down.
Do you want to indulge some more in autumnal flavours and have something to sip on while listening to the firewood crackles? Make sure to try this homemade pumpkin spice latte recipe!
Pumpkin & Cashew Curry Recipe
Serves 2 | Plant-based
Ingredients:
2 tsp Golden Mellow mix
2 tbsp coconut oil
1 onion, diced
1 garlic clove, minced
1 small Hokkaido pumpkin, diced
130g cashews
1 can coconut milk
1 tbsp curry powder
1 tbsp grated ginger
Salt and pepper, to taste
Cooked brown rice or quinoa
Directions:
Melt the coconut oil in a large skillet over medium, then add the onions and garlic and sauté until translucent.
Add the cashews and pumpkin and roast them for around 2 minutes, stirring constantly.
Pour in the coconut milk and simmer until the pumpkin is soft.
Stir in the curry powder and ginger, plus salt and pepper to taste.
Let the curry cool before stirring in the Golden Mellow mix.
Serve with cooked brown rice or quinoa.
Products Used