Super Green Tomato Pasta Sauce
An easy, nutritious and most importantly delicious tomato pasta sauce loaded with green power.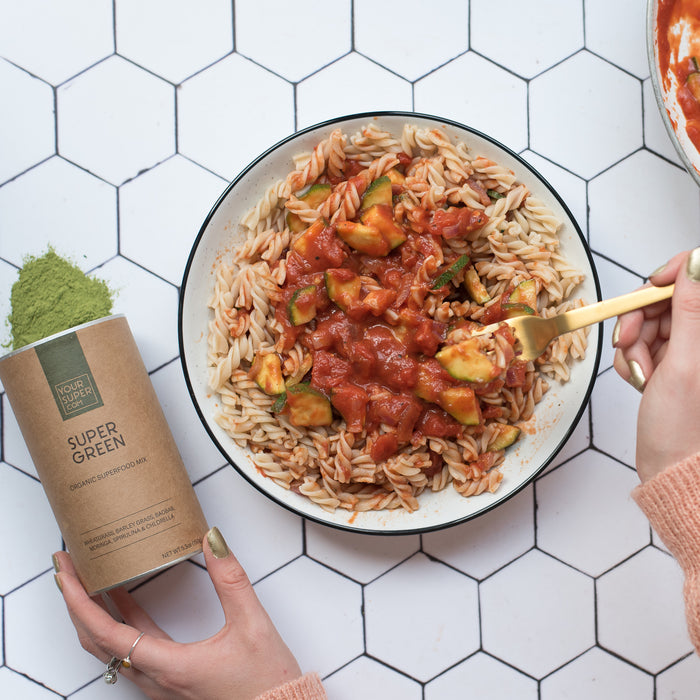 Who doesn't love a comforting bowl of pasta with a nice sauce every now and then? With this recipe, you can even sneak more greens in withtout even tasting them - the ultimate tomato pasta sauce.
The Super Green mix is an easy way to increase your intake of greens, fibres, essential vitamins and minerals; what's not to love about it?
Super Green Tomato Pasta Sauce Recipe
vegan & gluten-free
Ingredients:
2 tsp Super Green Mix
1 tbsp olive oil
1 big diced onion
1 minced garlic clove
150g cut up courgette
450g tomato passata
salt and pepper to taste
1 tbsp Italian herb mix (oregano, thyme, rosemary)
Directions:
Sautée onion and garlic clove in olive oil.
Add the zucchini
Add the tomato passata
Add salt and pepper
Add the Italian herb mix
Mix and let simmer
Boil the pasta
Serve in a bowl
Mix in the Super Green Mix
Enjoy!
Products Used