Green Protein Ice Cream
Treat yourself after those hard workouts with this 5-ingredient green protein ice cream.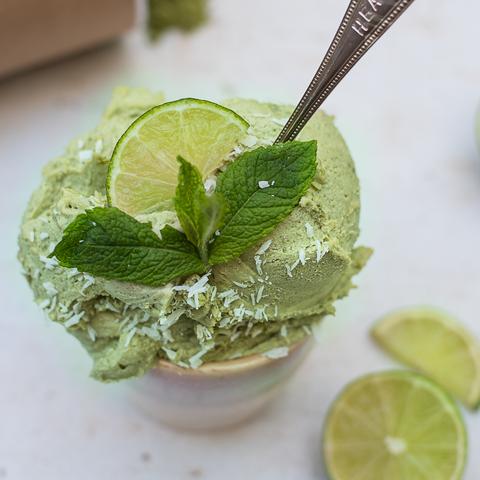 What's the best way to cool down after a long, hard workout? Here's a hint: it's cool ad it doesn't involve walking on the treadmill… If you guessed ice cream, you'd be absolutely correct! This protein ice cream is the perfect post-workout treat thanks to its protein content and extra greens.
The proteins comes from the Skinny Protein Mix, a hemp and pea protein blend that will support your body's natural post-workout recovery activities.
The green cherry on top of this super healthy, protein ice cream sundae? You'll get some added greens and fibres 3 green superfoods in the Skinny Protein Mix as well as our Super Green Mix.
The next time you want to treat yourself after a workout, try making this guilt-free protein ice cream — no cheat day required!
Green Protein Ice Cream Recipe
Serves 1, vegan & gluten-free
Ingredients:
Directions:
Place all of the ingredients in a high speed blender or food processor and blend until smooth.
Scoop into a bowl and enjoy!