Vegan Matcha Pancakes
Step up your brunch game with these vegan and gluten-free Matcha Pancakes.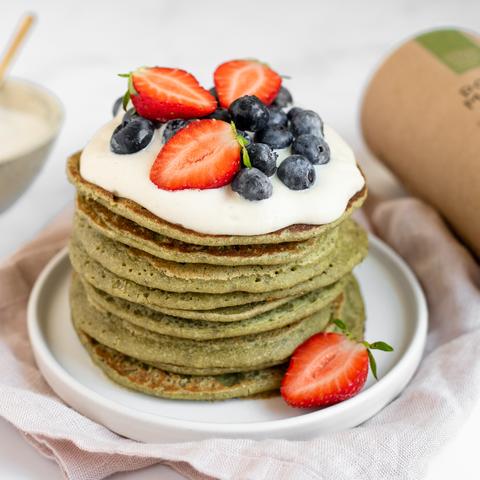 Do you love pancakes? Do you love matcha? Well, we have good news for you then. These matcha pancakes made with the Power Matcha Mix are not only easy to make, but also super delicious. Perfect for a long and cozy weekend breakfast (or just anytime really... We sometimes eat pancakes for dinner). Give these matcha pancakes a go and let us know what you think!
Vegan Matcha Pancakes Recipe
Makes 6 pancakes, vegan & gluten-free
Ingredients:
3 tsp Power Matcha mix
½ tsp flax seeds
180g rice flour (alternative: hemp flour, buckwheat flour, almond flour)
½ tsp baking powder
dash ground cinnamon
pinch of salt
130ml plant-based milk (or water)
Directions:
In a small bowl, combine flax seeds 1 tablespoon water. Set aside for 5 minutes.
In a medium-size bowl, whisk together the dry ingredients.
Pour in the plant-based milk and flaxseed mixture and mix until you have a smooth, thick batter.
Heat a large skillet (if your skillet's not non-stick, use coconut oil to grease it).
Spoon approximatively 60ml of the batter for each pancake onto the skillet.
Cook on both sides and repeat with the rest of the batter.
Stack the pancakes up, add your favorite toppings and serve.
Products Used