Piña Colada (alcohol-free)
Sip your stress away with our healthy pina colada recipe!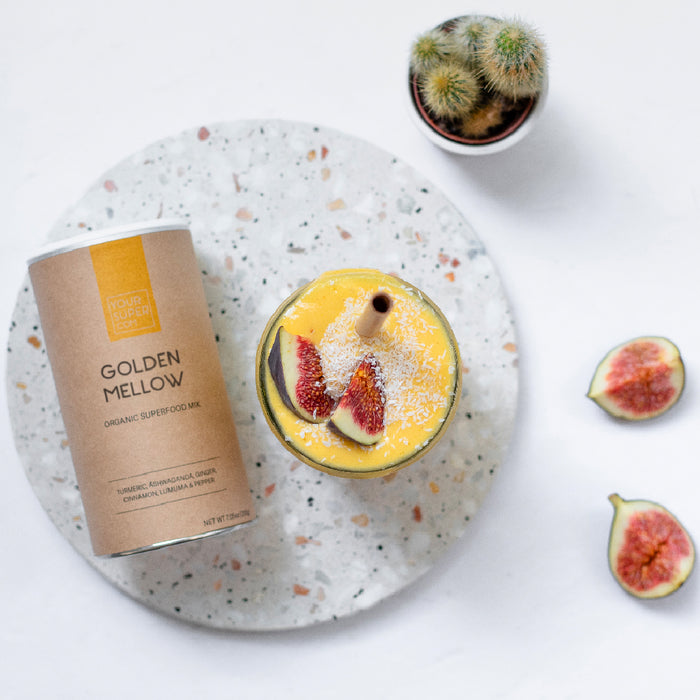 Want to relax and unwind, but don't have time to take a vacation? One sip of this healthy pina colada and you'll be instantly transported to the white sandy beaches of your dreams!
What makes this pina colada a holiday in a glass is the Golden Mellow mix! This calming blend of Ayurvedic herbs includes natural anti-inflammatories, like turmeric, ginger and cinnamon as well as ashwagandha, which is a natural stress reliever.
And unlike a traditional pina colada, which is loaded with sugar and alcohol, this healthy pina colada gets its sweetness from fruit, like pineapple and banana.
So sit back, relax and with this healthy pina colada — your stress and worries will melt away one sip at a time!
Piña Colada (alcohol-free recipe)
Ingredients:
2 tsp Golden Mellow mix
200g fresh or frozen pineapple
1 frozen banana (or 100g pineapple or mango)
250ml plant-based milk
Directions:
Place all of the ingredients in a high-speed blender and blend until smooth.
Pour into a glass and enjoy!
Products Used