Matcha & Banana Porridge
Switch up your morning matcha routine with a bowl of brain-boosting matcha & banana porridge.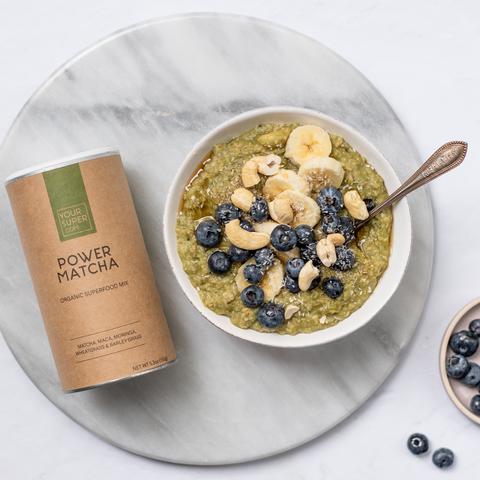 While the matcha overnight oats is a refreshing treat on hot summer days, this warming matcha porridge recipe fits perfectly to cooler weather. What more, the banana will give your bowl of porridge a natural sweetness & creaminess you won't get enough of.
Not only is this porridge filling and delicious, it also contains a full serving of the Power Matcha mix; with its brain-boosting superfoods blend, you'll feel productive and focused in no time!
Matcha & Banana Porridge Recipe
Serves 1, vegan
Ingredients:
2 tsp Power Matcha mix
1 banana, mashed
100g oats
250ml plant-based milk
2 tbsp coconut sugar
toppings (optional)
Directions:
Combine all of the ingredients (except the Power Matcha) in a small pot.
Cook over medium heat, stirring often to prevent burning or sticking.
Remove from heat and stir in the Power Matcha mix.
Pour into a bowl and add toppings, if desired, and serve.
Super Tip: Add 1 tbsp of nut butter for extra creaminess and healthy fats!
Products Used