Blueberry Porridge
Start your day the most perfect way with this beauty-berry rich blueberry porridge!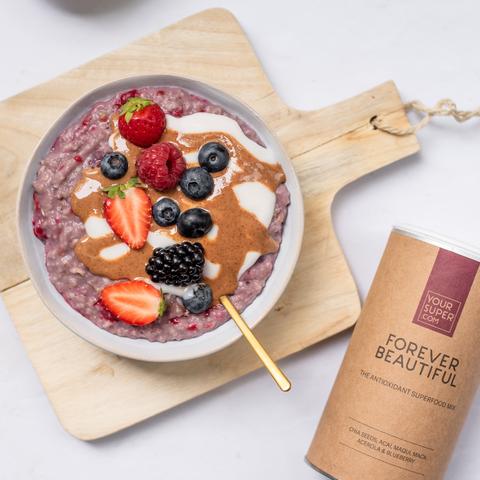 If blueberry is your favourite fruit, you're in luck! This blueberry porridge will chase the blues away from your mornings.
Blueberry, acerola, maqui... this porridge is indeed "berry" special! With its fruity flavours and creamy consistency, you won't need any other reason to get out of the bed in the morning ;)
Add to that a serving of the Forever Beautiful mix, and with just the first mouthful, you'll already be nourishing your skin from within. Its blend of beauty berries such as the acerola or the maqui is bursting with antioxidants and micronutrients. Yes, this breakfast is delicious AND good for your skin.
Blueberry Porridge Recipe
1 serving, vegan
Ingredients:
2 tsp Forever Beautiful mix
100g oats
350ml water
100g frozen blueberries
handful chopped dates
¼ tsp vanilla extract (optional)
toppings (optional)
Directions:
Combine all of the ingredients (except the Forever Beautiful) in a small pot.
Cook over medium heat, stirring often to prevent burning or sticking.
Remove from heat and stir in the Forever Beautiful mix.
Pour into a bowl and add toppings, if desired, and serve.
Products Used