Vegan Berry Muffins
Tired of oatmeal or smoothies? Switch up your morning routine with these energising Berry Muffins.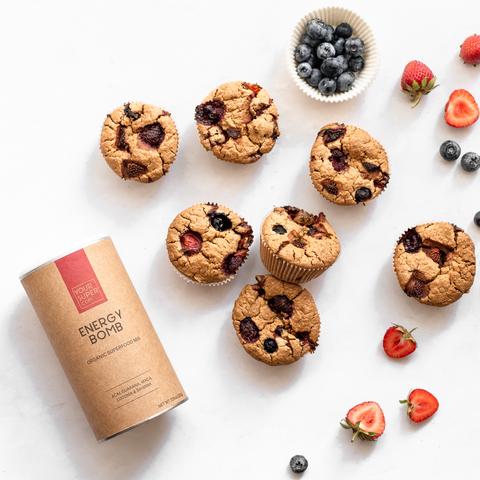 We love starting our mornings with a smoothie or a bowl of oatmeal. But when we need to shake up our breakfast routine we reach for these Berry Muffins!
Thanks the Forever Beautiful mix, these berrylicious baked goods are bursting with antioxidants, which is great news for your skin. The combination of vitamins A, C and E can help you get beautiful glowing skin and even increase your natural collagen production.
These Berry Muffins will also have you ditching your morning coffee. Why? Because this recipe also includes the Energy Bomb mix, which can give you up 6-8 hours of sustained energy! One spoonful is that same as one cup of coffee without the energy crash and jitters.
Simple and delicious, these Berry Muffins are just the change your morning needs!
Vegan Berry Muffins Recipe
Makes 8-9 muffins, vegan
Ingredients:
3 tsp Forever Beautiful mix
2 tsp Energy Bomb mix
180g oat flour
50g ground almonds
4 tbsp coconut oil
60ml maple syrup
1 tbsp baking powder
1 tsp vanilla extract (optional)
100g fresh berries
Directions:
Preheat the oven to 180°C and line a muffin tin with liners.
Combine all the ingredients (except the berries) in a big bowl and mix well.
Spoon the batter evenly into muffin tins.
Add a couple of berries on top of each muffin and bake for 25-30 minutes or until golden brown.
Allow to cool before serving.
Products Used