A HAPPY GUT = A HAPPY YOU
Beat bloat, balance your gut microbiome & support healthy digestion.
A HAPPY GUT = A HAPPY YOU
Beat bloat, balance your gut microbiome & support healthy digestion.
DIGESTION ISN'T SUPPOSE TO BE DIFFICULT!
It's hard to feel energized and excited about your life when everything feels stuck. But if you're one of the 70% of adults who don't eat enough fibre daily, then it's really hard for your body to keep things moving.
Meet the Gut Feeling Mix. It's a daily prebiotic superfood mix that delivers 4 grams of fibre—that's 13% of your daily recommended intake!—and natural digestive enzymes, so your body can do what it does best: absorb nutrients from your food and easily get rid of the rest.
Poor digestion can lead to many common health complaints, including fatigue, bloating, constipation, skin issues—even food intolerances in some cases. Gut Feeling Mix contains 6 whole food, superfood ingredients that will support your gut health, so you can get back to feeling your best!
You're not what you eat, but what you can digest.
SUPPORT YOUR GUT WITH SUPERFOODS
6 Powerful, Plant-Based, Gut-Supporting Ingredients 
Gut Feeling Mix was the #1 most-requested product from our customers. This newly launched superfood mix is an instant celery juice that's high in prebiotic fibre and contains natural digestive enzymes to reduce constipation, gas and bloating. Take it daily, up to 2x a day to support your digestive health.
Each serving of Gut Health Mix contains:
Celery
The fibrous vegetable that launched the whole celery juice craze because of all its health benefits. It contains antioxidants and has anti-inflammatory and alkalizing properties that help restore digestive health.
Jerusalem Artichoke
This root vegetable is a great source of fibre called inulin, which is a prebiotic. That means it feeds the healthy bacteria in your gut to help it multiply and flourish. Prebiotics are a must if you don't eat enough fibre.
Lemon Balm
Lemon balm is a herb that promotes relaxation and helps reduce stress. The ability to ease muscle tension helps get things moving. Lemon balm also helps reduce gas and bloating.
Lemon
Lemon has many digestive benefits and is an important ingredient when it comes to promoting digestive health. It can neutralise stomach acid and also helps regulate digestive enzymes.
Apple
Do you know apples can help reduce constipation? They contain pectin, a soluble fibre that's beneficial for healthy digestion, and a digestive enzyme called amylase, which helps with the digestion of starches.
Ginger
Ginger is a go-to ingredient to remedy nausea and other digestive upset, including bloating. It has anti-inflammatory properties and also contains protease, a digestive enzyme that helps with the digestion of protein.
Want to feel lighter and more energised while ditching bloating, excess gas, constipation, and other digestive issues for good? Right this way!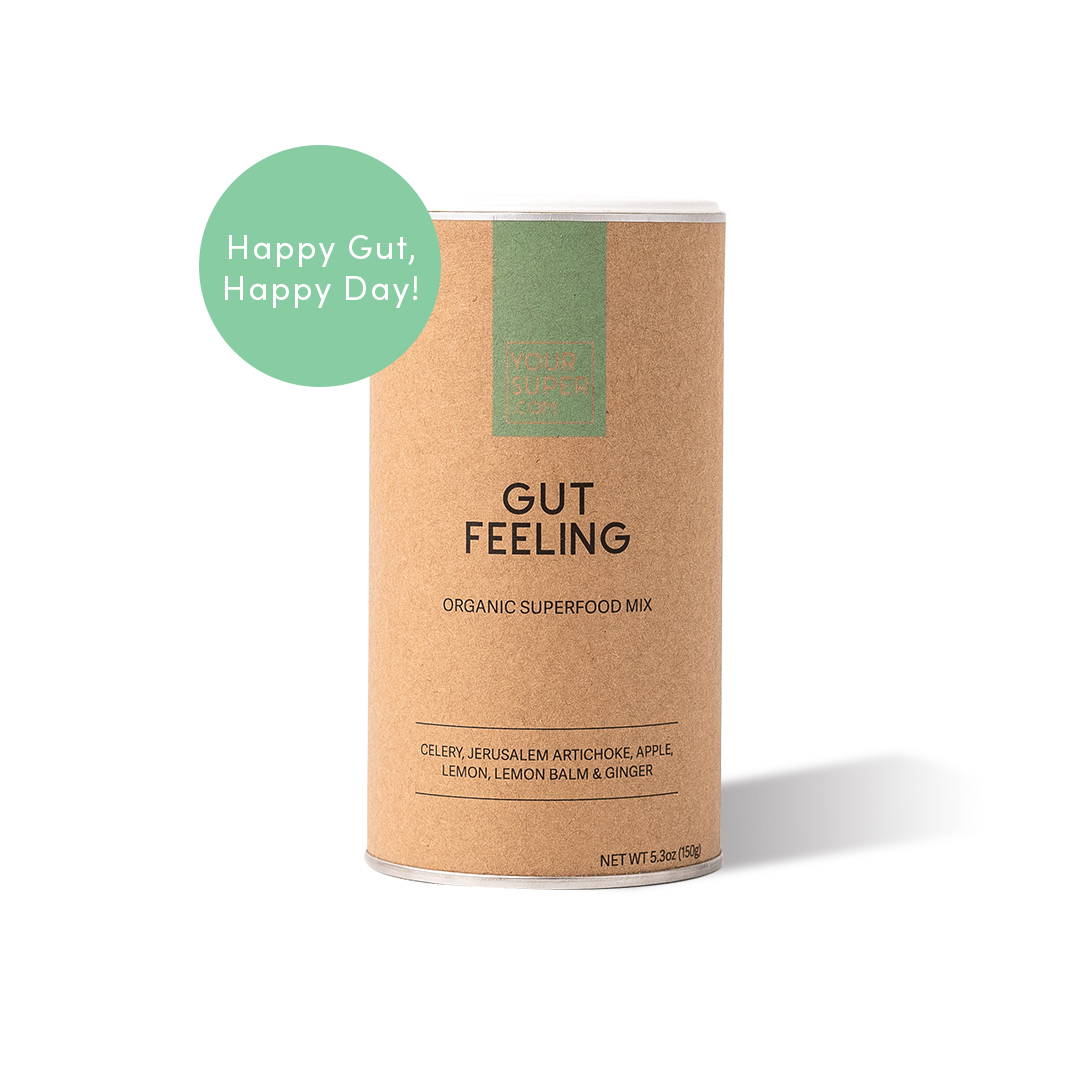 GUT FEELING MIX BUNDLE
Improve your digestive health by taking Gut Feeling every day, up to 2x a day. Order the bundle to get 3 cans of Gut Feeling Mix, a glass water bottle to enjoy your instant celery juice while on-the-go, and a Gut Feeling e-book with loads of delicious recipes to make and keep your gut healthy. Digestive distress will be a thing of the past!
GUT FEELING HELPS:
✓ Beat bloating
✓ Get rid of excess gas
✓ Reduce constipation
✓ Support friendly gut bacteria with prebiotic fibre
✓ Minimise digestive discomfort with digestive enzymes
✓ Improve digestion
For a LIMITED TIME only! Get the bundle Now for €89.90. Supplies are limited!
⭐️⭐️⭐️⭐️⭐️
REVIEWS
Beat bloat, get things moving, and support healthy digestion—so you can get back to feeling your best.
"This mix tastes delicious! It's celery juice with an extra sweetness. Love the green colour and the refreshing citrus taste." - Gretchen L.
"I didn't think I had poor digestion until I started taking this mix regularly—I can't believe how much better I feel!" - Melinda G.
30 Day

Money Back Guarantee
FREE SHIPPING On Orders Over € 50
7 DAYS A WEEK Customer Support