Vegan Eggy Bread
Eggy bread without egg? Trust us - with this recipe for vegan eggy bread you won't miss out on anything. Better: You'll get even more flavour and benefits from superfoods!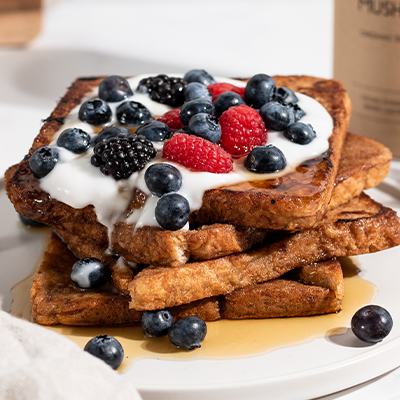 Remember those days from your childhood or at uni where you just wanted to whip up something quick, the fridge was empty except for some (about to be) stale bread and eggs? That's how our favourite classic was born: Eggy Bread (or maybe you call it French Toast). But in times of vegan deluxe kitchen recipes, this former kitchen staple has long been pushed aside by its rival, Avocado Toast.
However, we just couldn't let that happen so we've created this vegan version for eggy bread - which still beats the original in so many ways:
Plant-based Protein: Yes, from now on eggy protein will also count as a vegan protein source, because the Plant Protein Mix contains easily digestible protein from rice and peas. Thanks to banana, lucuma and maca, the mix is perfect for baking and gives a nice consistency. The chickpea flour also provides vegan protein (apart from the eggy taste!)
Omega-3 fatty acids from flaxseeds - they not only serve as a great egg replacement for consistency but can support digestion AND are a great source of healthy fats!
Calming superfoods: The Golden Mellow Mix not only gives the eggy bread its striking golden hues but also contains adaptogens like ashwagandha, which have a positive effect on the nervous system. Turmeric and cinnamon add a nice spicy kick and a touch of Ayurveda wellness.
Sounds too good to be true? Just try this quick and easy vegan recipe for eggy bread now!
Vegan Eggy Bread or Vegan French Toast Recipe
Ingredients:
2 tsp Golden Mellow mix
2 tbsp Plant Protein mix
1 tbsp chickpea flour
2 tbsp ground flax seeds
½ tsp cinnamon
250ml plant-based milk
2 slices of (gluten-free) bread
Toppings: Maple syrup, fresh fruit, nut butter, yogurt, nuts
Directions:
In a bowl, whisk ground flax seeds, Your Super mixes, chickpea flour, cinnamon and plant-based milk together..
Set aside and let the mixture thicken for 5-10 minutes.
Heat a large skillet on medium to high heat.
Dip the bread in the mixture and coat it from both sides.
Fry the bread from both sides until golden brown.
Stack it up, add toppings and enjoy!