Roasted Vegetables + Dressing for Hormonal Health
There's something about roasted veggies that makes them a fail-safe dinner - it's easy, convenient, you can use whatever is in season (or in your fridge) and now it can even add to your hormonal self care. Try this roasted veggies recipe with a zesty dressing for hormonal health for a fresh spin on the classic!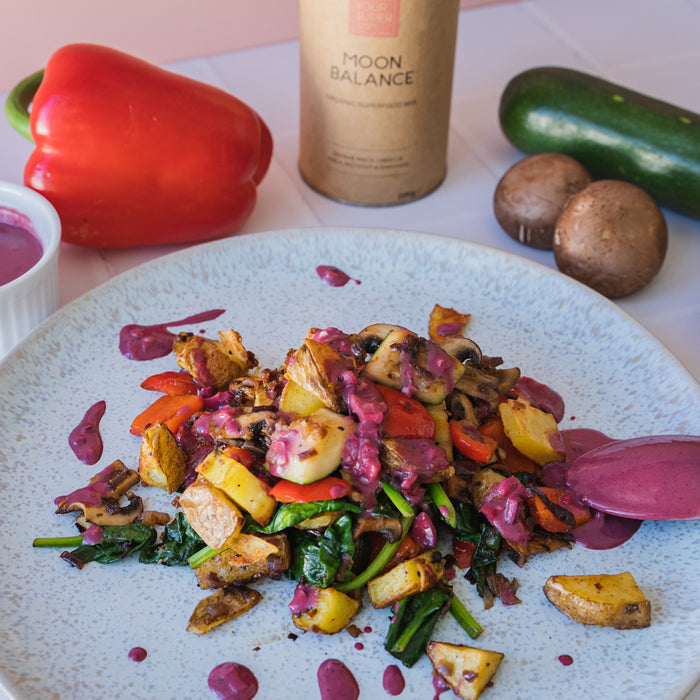 Whether you've had a stressful day of work, cannot be bothered to figure out a fancy recipe or have some random assortment of vegetables in your fridge you don't want to waste (some days it might be all three!): A dish of roasted vegetables always does the trick.
You can just toss together whatever you crave and whatever is in season, making it the perfect meal. But we've added something that will make it even more perfect (we dare to say "super"): A fresh and zesty dressing for hormonal health. Yes you've read correctly because we've just added a hormone-boosting spin on the good old classic.
A bowl of veggies for hormonal health
Certain plants have been known to be used by women all over the world to balance out hormones. There's green leafy vegetables that can boost liver activity, support oestrogen metabolism and elimination via kidneys. Or complete (plant-based) protein sources such as quinoa or different combinations of legumes, cereals, nuts and seeds, which are the basis for hormone and enzyme production. On top of that, each cycle phase can be naturally supported by eating a combination of slightly different veggies: "Lighter" ones such as broccoli, cucumber or zucchini during the follicular phase and starchy ones such as root vegetables during the luteal phase. Then we have healthy fats like avocado or extra virgin olive oil that can increase the absorption of vitamins and also make the base for hormone production.
Okay so now that you can figure out your basic veggie mix this is when the magic comes in. And by magic we mean powerful plants that will blow your mind (and that you cannot just shop in the grocery store). What we're talking about are roots like maca, shatavari and the hibiscus flower. They have been traditionally used in alternative medicine to balance the female cycle and were praised for their powerful effects. How convenient that we've gathered all those hormone-loving superfoods and combined them in our Moon Balance mix. Yep, just 6 powerful plants, nothing else added (because those are enough!). And with that mix you'll make the most creamy, zesty, refreshing, bright…perfect dressing for your veggies.
Truth be told my mouth was watering while writing this so I cannot wait to get started chopping up my veggies - you on board? Let's try this recipe for roasted vegetables and give our hormones some well deserved TLC.
Roasted Vegetables Recipe For Hormonal Health
2 Servings
Hormone Dressing

Ingredients:
2 tsp Moon Balance
1 tbsp Red wine vinegar
2 tbsp Olive oil
1 tbsp (plant-based) yoghurt
1 shallot, diced
1 garlic, minced
1 tsp dijon mustard
1 tsp salt
1 tsp pepper
½ tsp chilli flakes
1 tsp maple syrup
Directions: Stir or shake all ingredients together and pour over roasted vegetables.
Roasted Veggie Bowl
Ingredients:
2 potatoes, diced
2 tbsp olive or avocado oil, divided
1 onion, diced
1 red bell pepper, seeded and diced
½ zucchini, diced
45g mushrooms, sliced
15g fresh spinach
1 tsp garlic powder
salt and pepper, to taste
Optional: black or kidney beans
Directions:
Preheat the oven to 180°C and line a baking sheet with parchment paper.
Toss the potatoes with 1 tbsp of oil, salt and pepper.
Spread the potatoes in a single layer and bake until potatoes are crispy and golden, for about 20 minutes. Turn after 10 minutes.
Meanwhile, heat the oil in a large skillet, then add the onions, bell peppers, zucchini and mushrooms and sauté until soft.
Add the beans, spinach, and spices and cook until the spinach has softened.
Season with salt and pepper to taste.
Take off the heat, stir in the potatoes and add the dressing.
Super tip: Add a can of beans for added plant-based protein!
Products Used