Key Lime Pie Smoothie
Looking for a refreshing smoothie that tastes like dessert in a glass? You have to make this healthy Key Lime Pie Smoothie (bonus: it also contains some plant-based proteins)!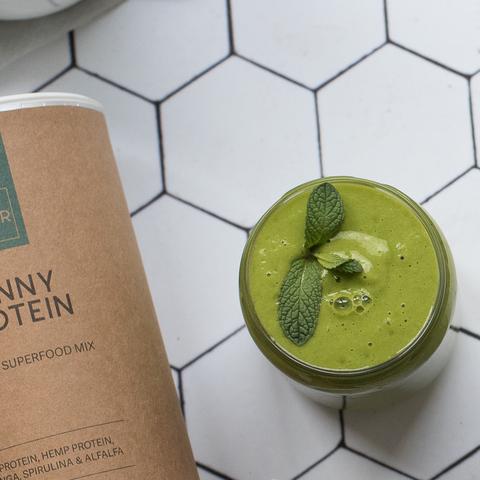 What's green, healthy and tastes like Key Lime Pie? This Key Lime Pie smoothie, of course!
This green dessert smoothie is packed with yummy fruits & veggies, such as the avocado that provides healthy fats.
Add to that a serving of Skinny Protein, a blend combining 3 green superfoods and 2 clean plant-based proteins, and you'll get 62% highly absorbable protein and some extra greens in your daily diet.
Not only will Skinny Protein leave you feeling fuller longer, it's also great for post-workout recovery.
So the next time you're looking for a healthy, post-workout treat whip up this Key Lime Pie Smoothie!
Key Lime Pie Smoothie Recipe
Serves 1, vegan & glutenfree
Ingredients:
Directions:
Place all of the ingredients in a high-speed blender and blend until smooth.
Pour into a glass and enjoy!
Super Tip: add 2 tsp Energy Bomb mix for an energy boost (great before a workout)!
Products Used