Gingerbread Porridge
Enjoy all of the flavours of gingerbread cookies in this satisfying bowl of gingerbread porridg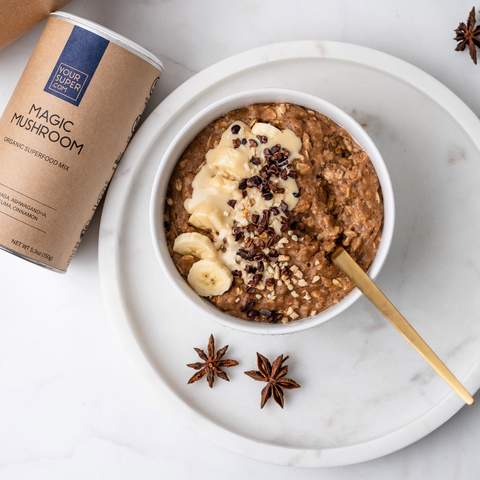 Cookies for breakfast? Yes, please! Start your morning with a bowl full of Christmassy flavours with this Gingerbread Porridge.
Made with gingerbread spices and two of our superfood mixes, this gingerbread porridge is big on flavour and benefits.
Thanks to the functional mushrooms and powerful adaptogen ashwagandha, the Magic Mushroom mix will help calm down and relax naturally.
Speaking of strong, this oatmeal also includes the Plant Protein mix, the cleanest plant-based protein powder on the market. Made from only 5 ingredients, this mix contains all essential amino acids, is easy to digest, AND is naturally sweet thanks to the lucuma and banana.
No need to wait for dessert to enjoy the flavours of gingerbread cookies! The next time those cravings strike, mix up a bowl of our gingerbread porridge and dive in spoon first!
The Recipe: Gingerbread Porridge
Serves 1
Ingredients:
2 tbsp Plant Protein Mix
1 tsp Magic Mushroom mix
150 ml plant-based milk
100 g oats
3 tbsp maple syrup
1 tsp gingerbread spice (follow the tip at the end of the article to make your own gingerbread spice blend!)
1 tsp molasses, toppings (optional)
Directions:
Combine all of the ingredients (except the Plant Protein and Magic Mushroom mix) in a small pot.
Cook over medium heat, stirring often to prevent burning or sticking.
Remove from heat and stir in the Plant Protein and Magic Mushroom mixes as well as the molasses (if using).
Pour into a bowl and add toppings, if desired- enjoy!
Super Tip: Make your own gingerbread spice by combining 1 tbsp ground cinnamon, 1 tbsp ground ginger, 1½ tsp allspice, 1½ tsp ground nutmeg and 1½ tsp ground cloves.