Berry Yoghurt Dessert
This berry yoghurt dessert not only tastes delicious but is actually good for you perfect if you're in the mood for a fresh and healthy dessert!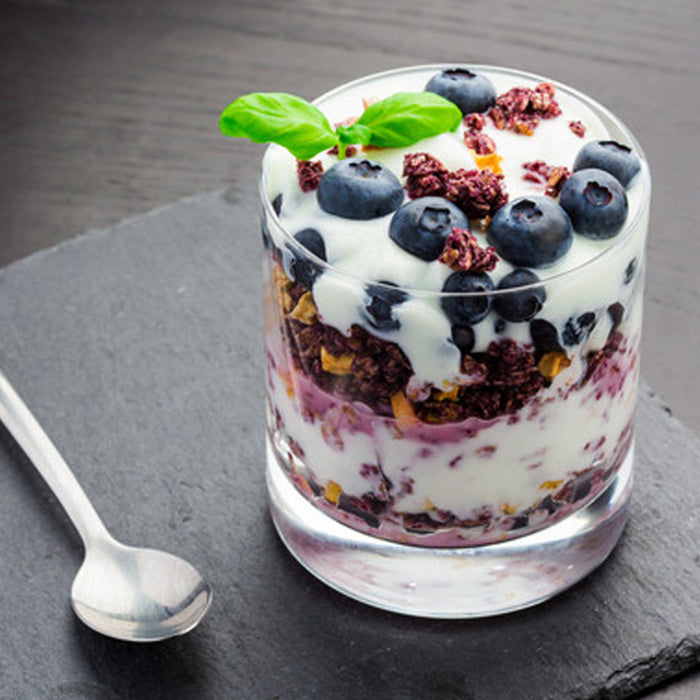 We can't even tell you how often people ask us this question: "But how should I use Your Super mixes?" The answer is simple: use them in anything you like! Our mixes are meant to be the perfect nutritious addition to your daily life. You can put them into smoothies, oatmeal, bake cakes, make hummus or simply...stir it into your favourite (plant-based) yogurt and enjoy a healthy snack!
By adding only 2 teaspoons of the mixes you will receive so many nutritional benefits in form of antioxidants, minerals and vitamins without having to eat large quantities of fruits and veggies!
The best thing is that you can do this with any of our unique superfood mixes - such as the Super Green as well as Forever Beautiful mix.
Berry Yoghurt Dessert Recipe
Serves 1, vegan & gluten-free
Ingredients:
2 tsp Forever Beautiful Mix
150g coconut yoghurt
1 hand full fresh blueberries
1 hand full granola
1 tbsp organic maple syrup
Directions:
In a bowl, stir the Forever Beautiful Mix with the coconut yoghurt
Take a glass
Layer the yogurt mix with blueberries and granola
Enjoy!
Products Used