Very Berry Overnight Oats
Your morning routine just got a little easier with these delicious very berry overnight oats recipe!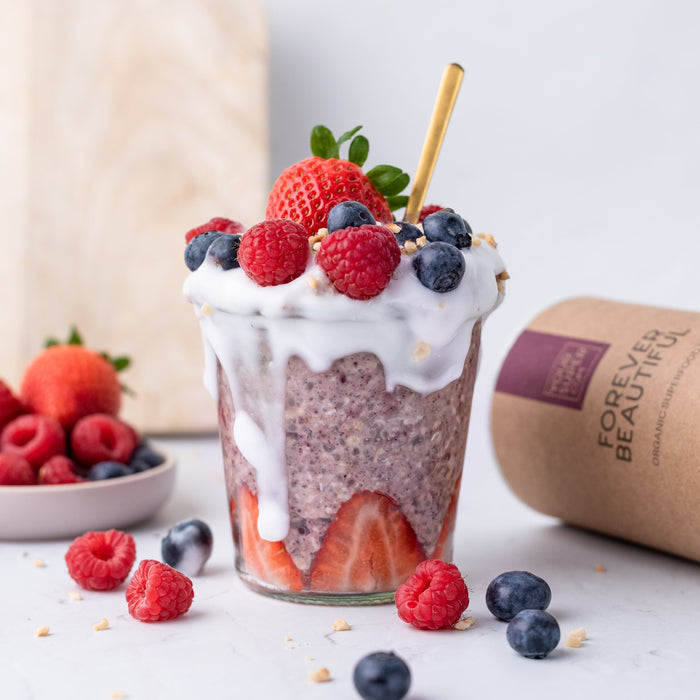 Let's face it, mornings can be hectic. From catching up on emails to getting ready and rushing to work – the last thing on your mind is breakfast.
But starting your day with a nutrition-packed meal is exactly what you need to get going! The solution? Our very berry overnight oats! They're the perfect combination of healthy and delicious – plus, they'll keep you full till lunchtime.
In addition to fresh berries, this overnight oats recipe contains 6 antioxidant-rich superfoods, including blueberries, acai berries, and maqui from our Forever Beautiful mix. On top of skin-loving superfoods, you'll also get your recommended daily value of Vitamin C.
Still struggling to stay awake? We've got you! These healthy overnight oats contain our Energy Bomb mix, so you can enjoy 6-8 hours of sustainable energy – without the awful caffeine crash.
Ready to simplify your morning routine? Prepare them the night before for an easy on-the-go breakfast! After all, it IS the most important meal of the day!
Very Berry Overnight Oats Recipe
1 serving, vegan
Ingredients:
Directions:
Combine all of the ingredients in a jar.
Cover and refrigerate overnight.
When ready to eat, add toppings (if using) and enjoy!
More Overnight-Oats Recipes:
Products Used